Tension increased in the Middle East on Sunday, January 12, when rockets were fired at a base in Iraq occupied by United States forces.
The attack resulted in injury to four Iraqi soldiers, according to a report by Independent. The bombs were said to have struck the Balad airbase in the northern part of Baghdad.
The report said the rockets all hit the runway located in the base. It did not state immediately if any death was recorded from the incident, but said the Iraqi military confirmed the attacks, but did not give much details.
According to the military, eight rockets were fired, but it was not clear the source of the attack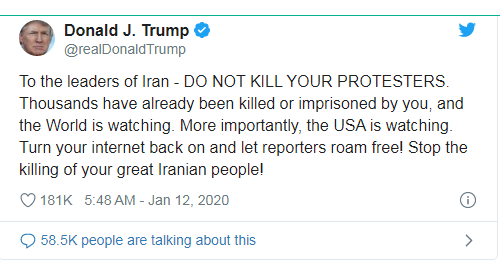 Macaire was allegedly arrested following a protest in Iran that resulted from the recent attack on a Ukranian plane by the Iranian Army. The plane crashed killing all 176 people on board.
Meanwhile, the government of Iran recently admitted that its military made what it called an "unforgivable mistake" in unintentionally shooting down a Ukrainian jetliner, which killed all 176 people on board.
In a series of tweets by the Iranian president, Hassan Rouhani, the government said that armed forces' internal investigation has concluded that missiles regrettably fired due to human error caused the horrific crash of the Ukrainian plane and death of 176 innocent people.