– Treka Engleman, a black woman, has broken racial stereotype by adopting three white kids
– The kind black woman said that she does not care about what people think about her
– According to her, knowing she has helped a boy or a girl find a home is the best feeling ever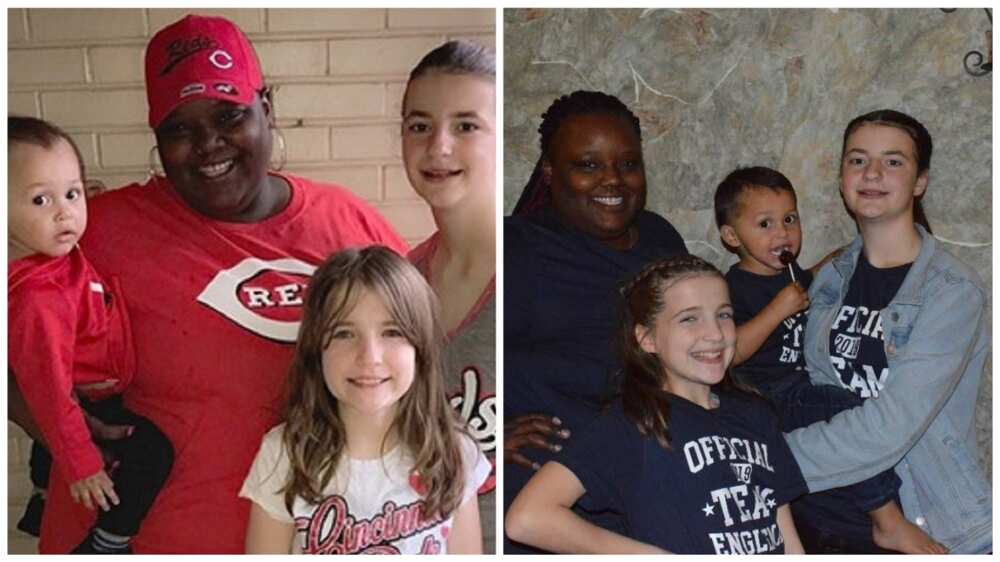 Treka said she does not care what anybody thinks about her act.
Source: Facebook
Love knows no boundary or skin colour. This is the philosophy that could be guiding Treka Engleman, a black American woman, as she adopted three white children.
According to Face2Face Africa, she has always dreamed of being a foster mother, saying she does not care about what anybody says.
She said how she has had to put up with people's stares in the public, adding that they do not bother her in any way.
Yes I've had my fair share of stares while we're out in public, but we just keep walking by unbothered.
I've had people ask me, 'Oh, are you babysitting?' and my response is no, they are my children. No questions asked.
I never say 'foster children,' but my children. Because that's what they are and always will be," she said.
Treka, who is also a middle school math teacher, said in her home, love has no colour. It should be noted that her pursuit to foster began in 2016 when she contacted St. Joseph Orphanage.
The black Samaritan urged anyone considering fostering to do it because knowing that one has helped a boy or a girl find a home is the greatest feeling ever, adding that she loves the kids "and wouldn't have it any other way." Meanwhile, Naijapalaba.com earlier reported that a mother of 11 said that she and her husband heavily rely on a military-style routine to put their kids under control.
Zeo and Ben Sullivan have a filled home with their children, where the oldest ones are Elizabeth and Olivia, aged 14 and 12 respectively. In talking with the media, the parents said that they most times use hours to tag lunch boxes so some of their children do not go hungry.