Football
Lionel Messi becomes 7th player in history to score 700 goals
The Argentine scored one of Barcelona's goals against Atletico Madrid in their 2-2 draw in Tuesday's Spanish League clash at the Camp Nou. Though the result didn't go the way of the Catalans, it was however a memorable evening for the 33-year-old who had a hand in both goals for the home team.
The feat ensured he became the seventh player on the planet to have scored 700 or more goals with his arch-rival Cristiano Ronaldo occupying the sixth position on the list.
According to ESPNFC, the Argentine forward achieved his feat in 862 appearances for club and country – 111 games lesser than the Portuguese when he recorded the same figure last year. However, the 35-year-old still ranks top on the list of top five active players with the highest number of goals across competitions.
Cristiano Ronaldo (Portugal, Juventus): 728 goals (1,005 games)
Lionel Messi (Argentina, Barcelona): 700 (862)
Zlatan Ibrahimovic (Sweden, AC Milan): 540 (907)
Luis Suarez (Uruguay, Barcelona): 472 (637)
Robert Lewandowski (Poland, Bayern Munich): 466 (697)
Below are the players to record 700 or more senior career goals:
Pele Brazilian legend and three-time World Cup winner Pele remains the highest goal scorer of all time with a staggering 1,279 career goals.
Lionel Messi sending Jan Oblak the other way as he scores his 700th career goal – credit: Getty Images Source: Getty Images The forward lasted 21 years on the pitch (1956-1977) but his figures were disputed by some quarters, with RSSSF giving him 767.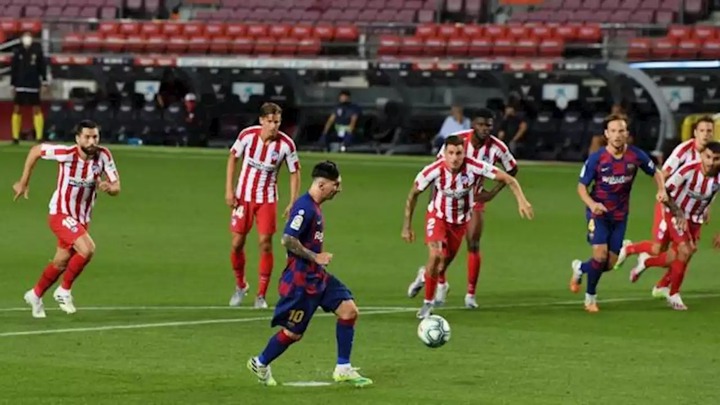 Josef Bican Josef Bican follows Pele on the ranking order with the Slavia Prague icon described as the topmost scorer of all time in official games, according to the RSSSF.
The striker massed a whopping 805 goals in 530 competitive games between 1928 and 1955 while representing three different countries.
Romario Another Brazilian superb forward Romario takes the third position with the RSSSF claiming the attacker scored 772 goals in 993 first-class matches during a career. He scored five stunning goals and helped the South American team win the World Cup in 1994.

Ferenc Puskas Ferenc Puskas is the fourth highest goal scorer in history with 746 goals in 754 matches between 1943 and 1966 for Honved, Real Madrid and Hungary.
Nicknamed "The Galloping Major," made his mark in the world of football and FIFA named their world's greatest goal award each season after him.
Gerd Muller Gerd Muller played for West Germany and Bayern Munich and was said to have scored 735 goals in 793 games. Fourteen of Muller's goals came at World Cups.
And then comes Cristiano Ronaldo on sixth with 728 goals in 1,005 games, followed by Lionel Messi on seventh who recently netted his 700th goal in 862 appearances.