News
BEWARE! DON'T EVER VISIT THESE 5 PLACES IN LAGOS – NO 1 WILL KILL YOU
Some people think it is too early to hold Governor Babajide Sanwo-Olu responsible for the mess Lagos roads have become, believing the immediate past administration of Akinwunmi Ambode should share in the blame, "because after Ambode was denied a second term ticket, he practically stopped working. Why are the roads suddenly collapsing just months after he left office?".
DONT FORGET TO FOLLOW US ON FACEBOOK.COM/NAIJAPALABAINFO
Got Questions? Ask NaijaPalaba
This is done not in an attempt to be little residents of such area rather this article serves as a wake up call to Government agencies saddled with the responsibilities of making Lagos state a better place for all and not for some selected few.
This list below shows "Top 5 dangerous places in Lagos" that needs the full attention of the government.
Places on this list form the core areas that have been classified unsafe due to environmental hazards, health hazards, lack of development, security breaches and criminality.
Sit back see our list and reasons for making the list of to24p dangerous places in Lagos state.
5. IKOTUN / EGBE / ABARANJE
As Reportedly Confirmed by NAIJAPALABA.COM Today from Our Source – Abiodun a computer Engineer whose shop is also located in ikotun as explained in details how the flood has been a major problem to ikotun and its people and how they suffers the Early morning downpour on this present day as some roads and household valuables were submerged in flood. Workers are unable to go to various office and roads are filled with pollution.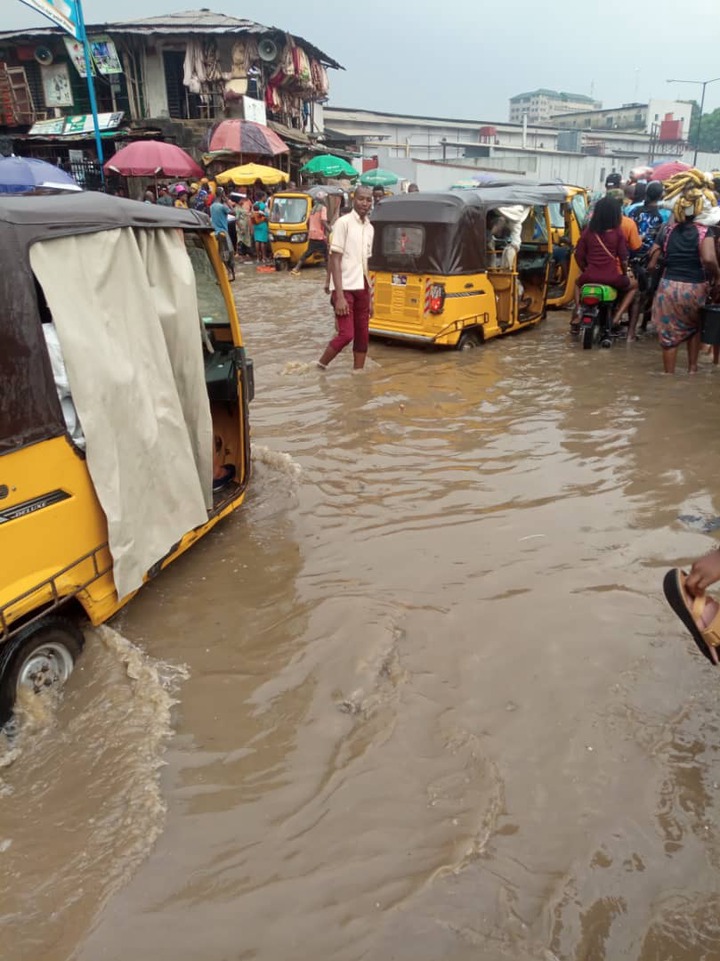 The area is always flooded as the canal in ikotun market allong Synagogue church that as claims so many Lives in the area. The disgusting odour which is also source of worry to the residents in the area is as a result of flushing of blood and other wastes from slaughtered cows into the canal.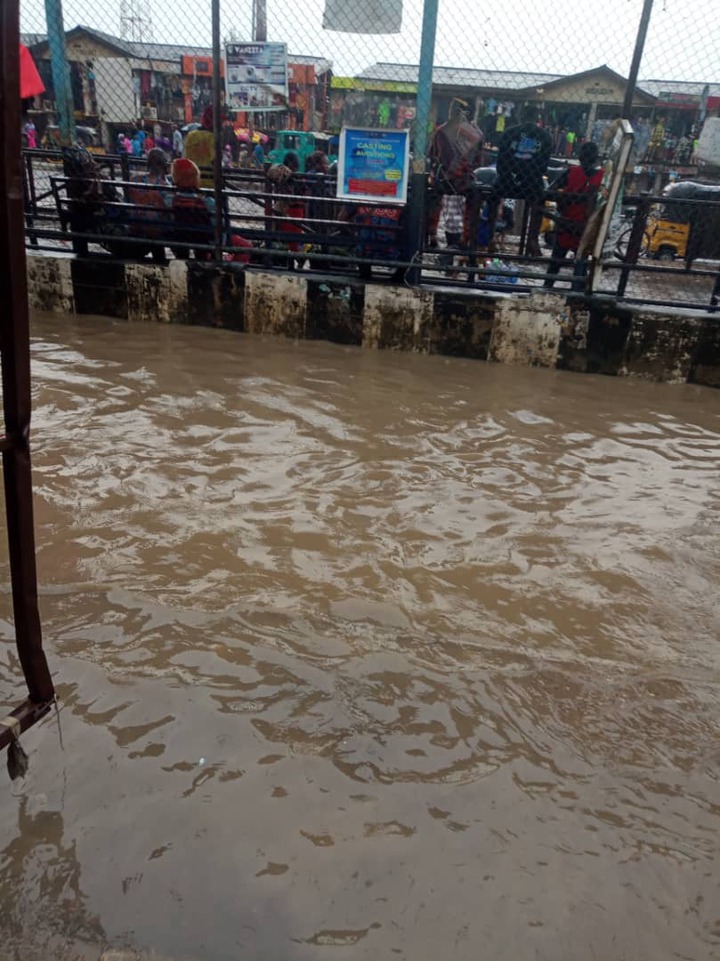 Before you visit ikotun, Make sure you own some couple of speed boat or helicopter to take you to and fro.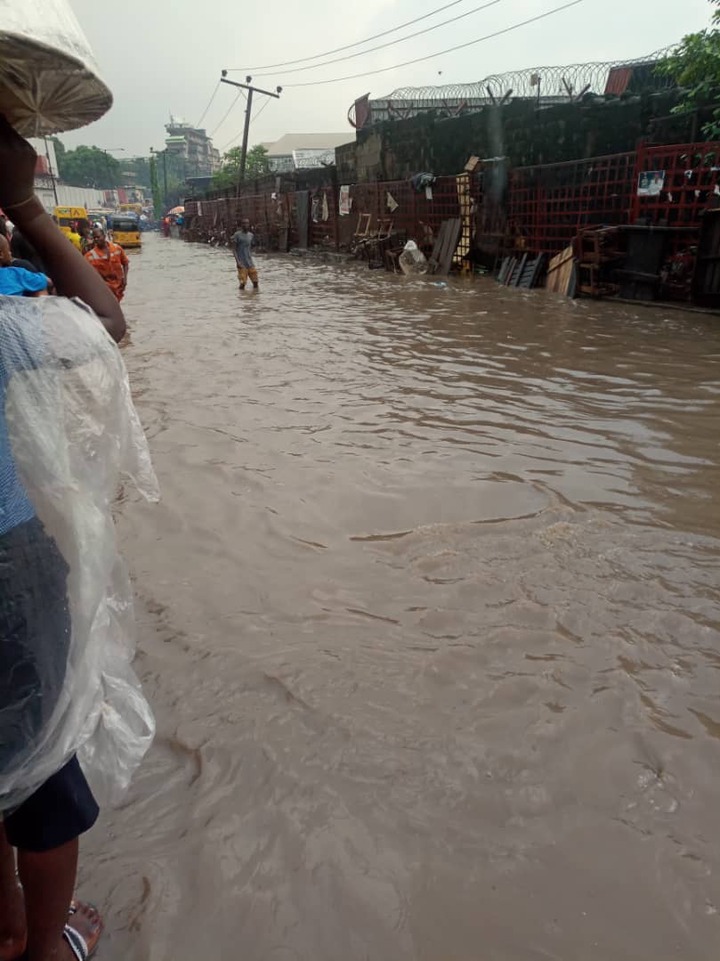 4. MUSHIN
Mushin, town, Lagos state, southwestern Nigeria is a densely populated suburb of Lagos city, and its inhabitants are mostly Yoruba people.
Continuing expansion from 1950 led to problems of overcrowding, inadequate housing, and poor sanitation.
Mushin is the site of a large industrial estate. Commercial enterprises include spinning and weaving cotton, shoe manufacturing, bicycle and motorized-cycle assembly, and the production of powdered milk.
Agricultural produce is brought for sale in the large central market.
The town is served by secondary schools and has a hospital. Mushin lies on the railway from Lagos and at the intersection of roads from Lagos, Shomolu, and Ikeja.
adjacent to the main road to Ikeja, and is a largely congested residential area with inadequate sanitation and low-quality housing.
Mushin is one of the dangerous areas in Lagos State. It was formerly referred to as 'Mushin Olosa' meaning "Mushin the den of thieves".
Though, Mushin has other fine areas and has also produced bundles of talents and men of integrity, the big 'M' city as fondly called has other deadly spots where drugs, marijuana and others are sold freely.
Places like 'Oduduwa' Street, among others are somewhat unsafe for strangers most especially at night.
3. AGEGE
This is another area of Lagos State where street urchins usually establish their dynasties. The black spot is known for selling of hard drugs like cocaine and marijuana.
Petty thieves thrive in this zone while rape, mugging, bank robbery among other social ills have become a mainstay. The area is an haven for miscreants.
Among other deadly spots in Agege include: Akerele near AP filling station, Oke-koto, Kasumun Street, Agbotrikuyo, Pen Cinema, New Oko-Oba and host of others.
READ ALSO: I Told Them Am A Marlian – Female Student React After Being Sent Out Of School
Residents of Old Abeokuta Motor Road, Abattoir in Oko-Oba and other areas in Agege, Lagos, have had to cope with the offensive odour from the abattoir located in the area.
Apart from the health hazards and damage to the environment, the abattoir is a stop over for flood any time it rains as most of the drainage around are blocked by refuse discharged from there.
The area is always flooded as the canal from Fagba to the abattoir and another one in Oko-Oba Estate are blocked completely.
The disgusting odour which is a source of worry to the residents in the area is as a result of flushing of blood and other wastes from slaughtered cows into the canal.
On a lighter mood, one good thing you can't take away from this place is its affiliation with the popular 'Agege bread'.
Several stories abound about the genesis of this bread. One version has it that the bread began to gain prominence in the early '70s. As the story goes, it was first produced in Agege.
From there it eased its way into other parts of the state. Originally known as Ayokuno Bread, when it attained a degree of popularity, it became known as Agege Bread.
The National Youth Service Corps Permanent Orientation Camp is located at Iyana-Ipaja Road,Agege.
Agege boast of very few industries, it is the hub of the Popular Aluminium Village which connects with the popular Abeokuta Express road.
2. AJEGUNLE
This one has no rival when it comes to the number one spot. Ajegunle is king of them all, in fact other areas 'dey learn where AJ dey'.
Ajegunle is probably the biggest and most 'unsafe' ghetto in Lagos. It is a highly populated district in Lagos that gives credence to the extent of poverty and economic hardship in Nigeria.
Ajegunle juggles an eclectic mix of ethnic groups and religions who manage to co-habit harmoniously despite the harsh living conditions. AJ city as its popularly called is a jungle of some sort; an haven for criminals.
Open engorged sewers, a valley of garbage, frustrated and mean faces are some of the interesting sights to behold when you visit Ajegunle.
A place where the quest for survival is at its highest and where the average young girl is expected to become a mother before her 18th birthday.
Although the town is located on the outskirts of Lagos, near the sea, residents are forced to live with the constant challenge of water scarcity as water surrounding this part of the state is heavily contaminated with sewage and refuse.
READ ALSO: Meet the Worse and Best City to Leave In Nigeria
This scarcity has led to the boom in the water selling business. You can live in AJ for free but what happens afterwards can't be guaranteed.
Nonetheless one thing you can't take away from Aj city is the closely knitted communal bond regardless of their population, little wonder there really hasn't been any widely reported case of widespread violence asides crimes perpetrated.
In spite of the harsh living conditions, this section of Lagos State is popular for producing some of Nigeria's greatest musicians and footballers.
Stars like Daddy Showkey and Taribo West have their pasts rooted in Ajegunle. This probably accounts for the sense of pride its inhabitants have for the area.
Boundary bus stop in Ajegunle popularly referred to as the 'one million boys' gang territory where criminals attack passengers in vehicles is a no-go area for visitors.
The popular Tolu complex; where 37 schools struggled for space is situated in Ajegunle.
1. IKORODU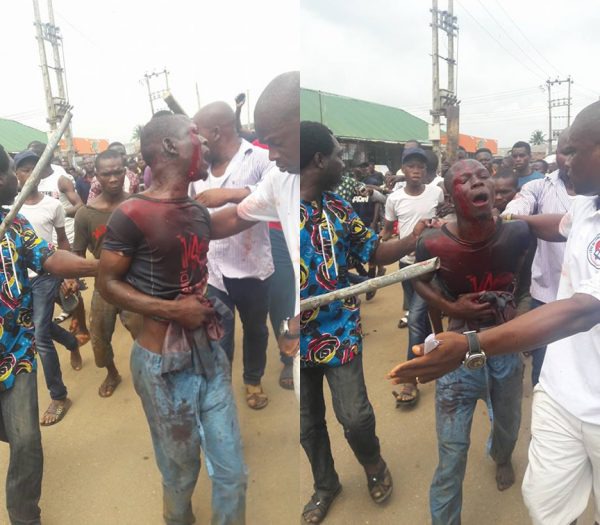 Located close to the Lagoon and sharing boundary with Ogun state, this area has been a hotbed of violence & Killings by a stupid group called "Badoo" in recent times.
From kidnapping to riots to communal clashes, Ikorodu is the Lagos epicentre for cult activities. In June, suspected militants invaded Ilara in Ogijo, a community in the area, causing mayhem.